Thursday, July 9, 2015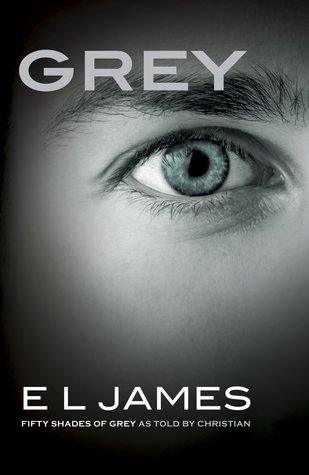 ★★★★★
GOODREADS SUMMARY: See the world of Fifty Shades of Grey anew through the eyes of Christian Grey.

In Christian's own words, and through his thoughts, reflections, and dreams, E L James offers a fresh perspective on the love story that has enthralled millions of readers around the world.
Christian Grey exercises control in all things; his world is neat, disciplined, and utterly empty—until the day that Anastasia Steele falls into his office, in a tangle of shapely limbs and tumbling brown hair. He tries to forget her, but instead is swept up in a storm of emotion he cannot comprehend and cannot resist. Unlike any woman he has known before, shy, unworldly Ana seems to see right through him—past the business prodigy and the penthouse lifestyle to Christian's cold, wounded heart.
Will being with Ana dispel the horrors of his childhood that haunt Christian every night? Or will his dark sexual desires, his compulsion to control, and the self-loathing that fills his soul drive this girl away and destroy the fragile hope she offers him?
Okay… I'm just going to ask this first…
Is there going to be a Darker and Freed books on Christian's POV?

Say YES, please!
________________

Thank you EL James for this AMAZING book!
L-O-V-E I-T!

I don't remember when was the first time I finished reading Fifty Shades Freed, I've been wanting this (Grey) that long. There's a bonus part in there with the first Part of Fifty Shades of Grey on Christian's perspective. GOSH! I mean... whenever–after rereading–I came to that part, I just want to reread the story all over again.
A couple of years and a movie later… TADA!
I'm so glad EL James wrote Grey in a full-length novel. *thumbs up*

If you're a big fan of the trilogy and Christian-fucking-Grey you MUST read this!
"I've never wanted more, until I met you."–Christian Grey
*MC's Corner*
Note: Spoilers.
DON'T FORGET TO TAKE YOUR BIRTH CONTROL PILLS… or whatever contraceptive you're using. YOU MIGHT GET PREGNANT.
This book is intended for mature audiences.


• Okay… YES it's a lil bit disappointing that EL James didn't present us with a new story and characters. Instead its 'just' Fifty Shades of Grey told by Christian Grey. Same story, same plot just different person telling the story.
BUT… who doesn't want be inside Christian-fucking-Grey's head? DUH!
The thing is… I don't understand those people (on twitter and etc) 'bashing' and telling negative things about the release of this book and to EL James. I mean… it's very simple: if you don't want to read it then DONT. Stop making so much fuss about it. *GRRRRR*
The other thing… so many authors does this thing why EL James can't?

• Whenever I read the first three books I always wonder what Christian thinking is. GOSH!
I love being inside CTG's head. His dreams, past… and dirty thoughts.
This is absolutely fucking sexy and fabolous. I love it!
When you read Grey, youre going to 'see' the parts where Ana is… not there. LOL. Those part where even Ana doesn't know.
It's like filling those blanks on Fifty Shades of Grey.

• I think when I plan rereading the series again I'm going to start reading Grey first.
Though... if you guys who haven't read the series… I don't advice it. Uh-uh… not a great idea... this book is a #SUPERDUPERSPOILER.

• The difference and likes of Fifty Shades of Grey andGrey.
Beside the one talking… I don't think there's that much difference.
Its still as good and the scenes… emailing…. are as amusing as the other. NAKAKAKILIG! *giggle*

• Okay… I wish there's a translation with the French tête-à-tête of Christian and Mia.

• Whenever I see Leila's name… I wanna puke. And those parts where Christian is recalling his time with her… UGH! I just want to grab her by the head… and remove all those hairs. *rawr*
AND THOSE WITH MRS. ROBINSON! OHMIGOD! DON'T START WITH THAT! *glaring at her name*

• DID YOU KNOW THAT MY FAVORITE CHRISTIAN PICE OF CLOTHING HAS A NAME?
Christian calls it DJ: Dom Jeans.
He's so hot with them. *fanning my face*
…and without them.

• So… Grey ended planning the days before he's going see Ana again and to fly her to José's show.
So yeah… those days before that are some kind of… bonus parts, i.e. Christian building the glider.

• NAKAKALOKA!

• LEAST FAVORITE PART OF THIS BOOK: THE COVER.
I wish it's Jamie Dornan I'm seeing. #JUSTSAYING

• #PRAYINGFORTHENEXTONETOHAPPEN

_____________________________________
THESE ARE SOME PARTS IN THE BOOK… I did a little alterations… :)
_____________________________________


From: Elena Lincoln
Subject: The Weekend
Date: May 30 2011, 10:15
To: Christian Grey
Christian, what gives?
Your mother told me you took a young woman to dinner yesterday.
I'm intrigued. It's so not your style.
You've found a new submissive?
Call me.
Ex
ELENA LINCOLN
ESCLAVA
For The Beauty That Is You™


From: Mc Manalo
Subject: re: The Weekend
To: Elena Lincoln

YOU BITCH! YOU BITCH! YOU BITCH! YOU BITCH!
YOU BITCH! YOU BITCH! YOU BITCH! YOU BITCH!
JUST DIE!
I wanna poke your eyes with my pen! GRRR!
'EX' THE FUCKING WHAAAAT???!

Mc Manalo
MC's CORNER

____________________________________

Christian: We're going to rectify the situation right now.

Me: *gasp*
I'm pregnant! And you just said that.
___________________________________

@gleekidMC